I might say that I read Meditations over and over, or that Morgan's Run is the book that I love to lose myself in.
But the truth is that the pages that I've read the most, the quotes that shake me up the most, the lessons that I've learnt from the most, are from The Little Prince.
---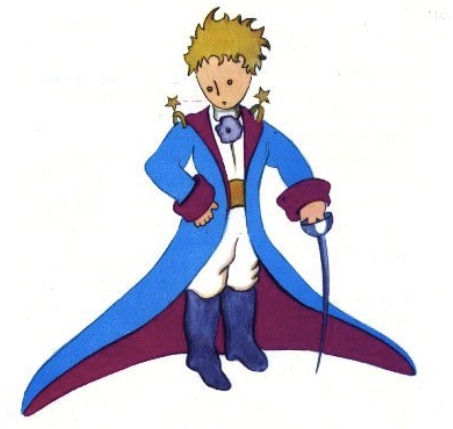 ---
The book has serendipitously inveigled it's way into my mind and heart over the years.
I was introduced to it through an excerpt in a school textbook.
And ever since then, I've run across its quotes and lessons in books, in film and through people.
Even as I child, I somehow knew that the story added up to more that what the explorer and the Prince went through.
I knew the story teller was saying more than he let on.
And as I've grown, the book has continued to delight and offer lessons (if I care to listen)
On responsibility
"People have forgotten this truth," the fox said.

"But you mustn't forget it.

You become responsible forever for what you've tamed.
You're responsible for your rose."
On innocence and seeing things for what they are
If you were to say to the grown−ups:
"I saw a beautiful house made of rosy brick, with geraniums in the windows and doves on the roof,"
they would not be able to get any idea of that house at all.

You would have to say to them:
"I saw a house that cost $20,000."
Then they would exclaim:
"Oh, what a pretty house that is!"
On what truly matters … to You!
"If some one loves a flower,
of which just one single blossom grows in all the millions and millions of stars,
it is enough to make him happy just to look at the stars.

He can say to himself, 'Somewhere, my flower is there …'
But if the sheep eats the flower, in one moment all his stars will be darkened …
And you think that is not important‽ "
On the joy of effort
"It is the time you have wasted for your rose, that makes your rose so important."
On looking past appearances to find true beauty
"The stars are beautiful, because of a flower that cannot be seen."

I replied, "Yes, that is so.'
And, without saying anything more, I looked across the ridges of sand that were stretched out before us in the moonlight.

"The desert is beautiful," the little prince added.

"What makes the desert beautiful," said the little prince, "is that somewhere it hides a well …"
On sorrow
It is such a secret place, the land of tears.
On love and belonging
… said the little prince. "What does that mean –– 'tame'?"

"It is an act too often neglected," said the fox. It means to establish ties."

"To establish ties?"

"Just that," said the fox. "To me, you are still nothing more than a little boy who is just like a hundred thousand other little boys.
And I have no need of you.
And you, on your part, have no need of me.
To you, I am nothing more than a fox like a hundred thousand other foxes.

But if you tame me, then we shall need each other.
To me, you will be unique in all the world.
To you, I shall be unique in all the world … "

"I am beginning to understand," said the little prince.
"There is a flower …
I think that she has tamed me … "
On death
"You understand … it is too far. I cannot carry this body with me. It is too heavy."

I said nothing.

"But it will be like an old abandoned shell.
There is nothing sad about old shells … "
---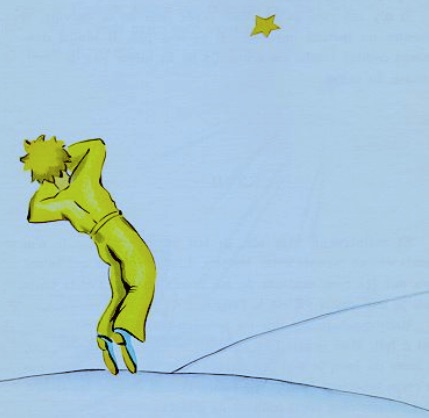 ---
Word for word, The Little Prince has given me more wisdom and comfort and joy, than any tome I have ever read, more than even a Seneca or an Aurelius; a Wu Hsin or the Bible.
And yet, it does all this, with a story so simply and delightfully told.
I laugh at my explorer's drawings.
I cry every time the Little Prince has to go away.
And for all this, I've never appreciated it all these years.
Never again.
---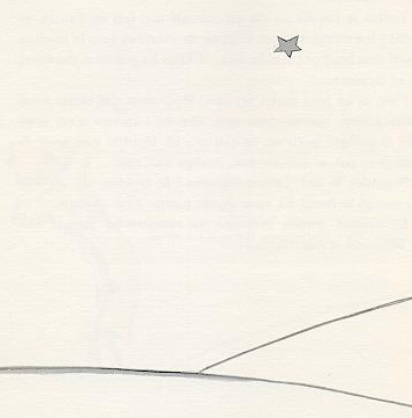 ---
I'll close with the same lines the comte de Saint Exupéry writes, to bring the story to its wistful end …
This is, to me, the loveliest and saddest landscape in the world.
It is here that the little prince appeared on Earth, and disappeared.
Look at it carefully so that you will be sure to recognise it in case you travel some day to the African desert.

And, if you should come upon this spot, please do not hurry on.
Wait for a time, exactly under the star.

Then, if a little man appears who laughs, who has golden hair and who refuses to answer questions, you will know who he is.
If this should happen, please comfort me. Send me word that he has come back.
---