---
Started: 2018-01-24 Finished: 2018-01-24
The book had so many parallels to what I've learnt at DGPLUG that I decided to do this book's notes here, instead of over at the home blog.
I want to grow and become known enough to find my thousand true fans. I was lucky then, to find this book that has the exact same premise.
You don't really find an audience for your work; they find you. But it's not enough to be good. In order to be found, you have to be findable.
Talk about finding water in the desert!
And then on it's an awesome, rollicking, unputdownable ride across Austin's ten rules of putting your work out there.
One of the best parts, when starting out was finding a Scenius.
If you believe in the lone genius myth, creativity is an antisocial act, performed by only a few great figures—mostly dead men with names like Mozart, Einstein, or Picasso. The rest of us are left to stand around and gawk in awe at their achievements. There's a healthier way of thinking about creativity that the musician Brian Eno refers to as "scenius." Under this model, great ideas are often birthed by a group of creative individuals—artists, curators, thinkers, theorists, and other tastemakers—who make up an "ecology of talent." What I love about the idea of scenius is that it makes room in the story of creativity for the rest of us: the people who don't consider ourselves geniuses.
You know where this is going, right? DGPLUG is my scenius :)
As a shot of courage, the advantage us amateur punks have, over the likes of Kushal, Sayan & Shakthi (I kid guys, I kid :) )
We're all terrified of being revealed as amateurs, but in fact, today it is the amateur—the enthusiast who pursues her work in the spirit of love (in French, the word means "lover"), regardless of the potential for fame, money, or career—who often has the advantage over the professional. Because they have little to lose, amateurs are willing to try anything and share the results. They take chances, experiment, and follow their whims.

"In the beginner's mind, there are many possibilities," said Zen monk Shunryu Suzuki. "In the expert's mind, there are few."

The world is changing at such a rapid rate that it's turning us all into amateurs. Even for professionals, the best way to flourish is to retain an amateur's spirit and embrace uncertainty and the unknown.

"I saw the Sex Pistols," said New Order frontman Bernard Sumner. "They were terrible. . . . I wanted to get up and be terrible with them." Raw enthusiasm is contagious.
He speaks about the process of creation being messy, but there's still incredible value in letting people see how it's done, to let folks have a connection and an ongoing conversation with us, the creators.
And echoing Shakthi, here's Austin on breaking down goals to the day.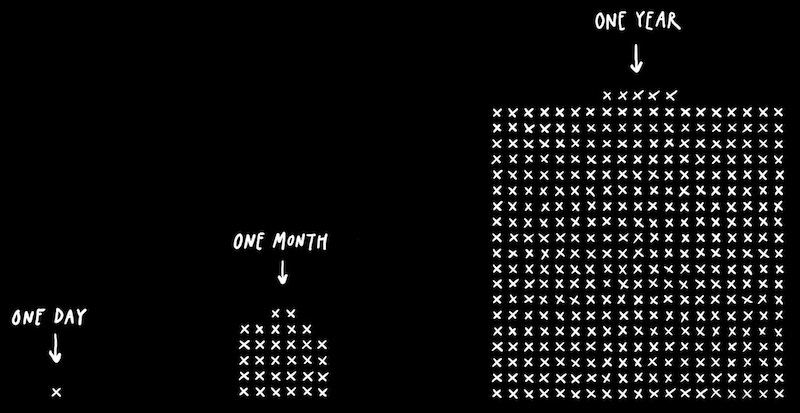 Overnight success is a myth. Dig into almost every overnight success story and you'll find about a decade's worth of hard work and perseverance. Building a substantial body of work takes a long time—a lifetime, really—but thankfully, you don't need that time all in one big chunk. So forget about decades, forget about years, and forget about months. Focus on days. Seasons change, weeks are completely human-made, but the day has a rhythm. The sun goes up; the sun goes down.
While you might think, that you'll make a better mouse trap and the world'll beat a path to your door (or in programmarese, build it and they will come), you couldn't be more wrong. You need to tell people your story. And if you aren't already, you need to become a good storyteller.
The truth is, our work doesn't speak for itself. Human beings want to know where things came from, how they were made, and who made them. The stories you tell about the work you do have a huge effect on how people feel and what they understand about your work, and how people feel and what they understand about your work effects how they value it. "'The cat sat on a mat' is not a story. 'The cat sat on the dog's mat' is a story." —John le Carre
Obviously stealing what Kushal has been yammering on about for years, "শেখ এবং শেখাও"1
Teaching people doesn't subtract value from what you do, it actually adds to it. When you teach someone how to do your work, you are, in effect, generating more interest in your work. People feel closer to your work because you're letting them in on what you know.

Best of all, when you share your knowledge and your work with others, you receive an education in return. Author Christopher Hitchens said having his work out in the world was "a free education that goes on for a lifetime."
There's a shit ton of advice in this small volume
The importance of owning your own domain, your own blog.
Crediting people you steal from
Being someone worth following
Being just selfish enough to protect your time and your work
Learning how to deal with life's punches
on the importance of "selling out" to earn your daily bread and feed your soul
and the importance of paying it forward
"Above all, recognize that if you have had success, you have also had luck—and with luck comes obligation. You owe a debt, and not just to your gods. You owe a debt to the unlucky." —Michael Lewis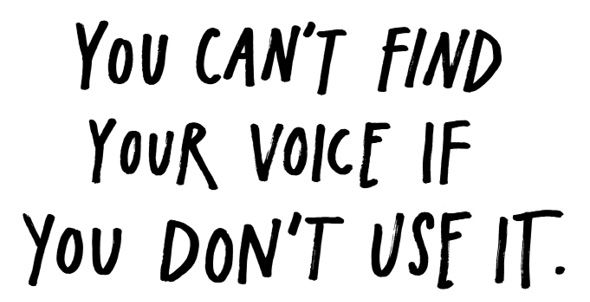 "Find your voice, shout it from the rooftops, and keep doing it until the people that are looking for you find you." — Dan Harmon
It's lovely. It's concise. It's full of practical wisdom. It's definitely worth many reads.